Provider Resources: COVID-19
COVID-19 OUTBREAK | KEEPING PATIENTS SAFE THROUGH THE PANDEMIC
Updated: December 30, 2020
We want to take a moment to thank you for your patience over this past year as we put pieces in place that enabled us to safely care for your patients. In additional to following CDC and DOH guidelines and recommendations, we have taken additional measures to help keep everyone at our facilities safe and healthy.
In May, we relocated our dedicated imaging services for COVID-negative, symptomatic patients from TRA – Lakewood to Diagnostic Imaging Northwest – Puyallup Imaging Center.
DIAGNOSTIC IMAGING NORTHWEST – DEDICATED IMAGING SITE FOR SYMPTOMATIC PATIENTS
Offering scheduled Chest X-rays for patients with COVID-like symptoms or pending COVID tests.
Please note: COVID-positive patients needing urgent imaging (prior to 14 days after their COVID test), should be directed to the hospital.
Services: Chest X-ray
Hours: Monday – Friday, 1:00 – 5:00pm (by appointment-only)
Location: 220 15th Ave SE, Puyallup, WA 98372
Exams are by appointment only. Call our scheduling team to make an appointment: 253-841-4353
Check-in: Patients should follow the signage to the Mobile Imaging Service in the 220 Building and wait to check-in with the technologist.
Scheduling Methodology: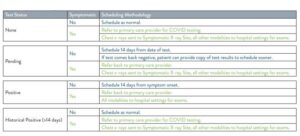 X-RAY SERVICE AT TRA MEDICAL IMAGING AND DIAGNOSTIC IMAGING NORTHWEST
We understand habits can be hard to break. We'd like to remind you that one way we are keeping patients safe is by offering scheduled all x-ray exams so that we can practice social distancing in our waiting rooms.
X-ray Scheduling at DINW: 253-841-4353
X-ray Scheduling at TRA, Pierce County: 253-761-4200
X-ray Scheduling at TRA, Thurston County: 360-413-8383
We understand that this epidemic has resulted in anxiety and uncertainty for many. It is important to us that our healthcare partners and patients understand the extra precautions and measures we are taking so everyone can feel confident and SAFE in our care.
S – Social distancing requirements with flexible waiting options
A – Applied universal masking protocol and temperature screening
F – Facility safety enhancements including physical and engineered barriers
E – Enhanced cleaning and disinfecting
---
Effective April 2, 2020 – DINW will be implementing a universal masking protocol at all of our freestanding outpatient imaging centers, as well as our affiliated imaging facilities – TRA Medical Imaging and Carol Milgard Breast Center. Learn more about Universal Masking.
---
In response to the rapid spread of COVID-19, the shortage of available PPE, and the needs of our community, we have established our first dedicated imaging location for symptomatic patients at our Mobile Imaging Service.
It is imperative that we have the following information documented on the patient's order:
Screening questions answered (fever, cough, shortness of breath)
Has the patient been tested for COVID-19? If yes, please provide the date of testing.

Positive result – patient must be sent to a higher acuity facility.
Negative – please proceed to DINW Puyallup Imaging Center.
Download Order Forms
---
Urgent Exam Scheduling
In order to best serve our patients, we have created a dedicated team for handling STAT exams.
Urgent Exam Scheduling should be used for:
Scheduling medically urgent studies that should not wait more than a few weeks to be performed
The ability to communicate the details or guidelines about when a study needs to be scheduled
Please note: In order for our team to see your STAT patients quickly, we must have a signed order with clinicals.
Urgent Exam Scheduling: 253-680-3395
---
Plain Film Scheduling for All Locations
Due to the development of our dedicated imaging site for symptomatic patients, we will only be accepting X-rays by appointment-only at DINW locations. This will help make sure symptomatic patients are seen at the dedicated imaging facility for symptomatic patients, reducing opportunities for exposure and ensuring all patients are seen in a timely fashion.
DINW Scheduling: 253-841-4353