BodyLogic™ Scan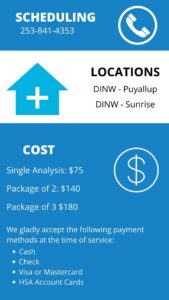 Using DEXA, or Dual-energy X-ray Absorptiometry, The BodyLogic™ scan provides detailed measurements of the body by looking at bone density, lean mass, and fat mass. This information is critical for accurately assessing the state of a patient or athlete's health and defining successful treatment plans and training programs.
How it Works
Advanced body composition analysis uses bone densitometry (DEXA), an enhanced form of x-ray. This technology sends two very low level of x-rays which are absorbed differently by bones and soft tissue. The DEXA scanner calculates the amount of fat, muscle and bone in your body. DEXA is typically used for measuring bone loss and diagnosing osteoporosis; however, it has also been proven to be the most precise measurement of a person's body composition.
Understanding the Information
The BodyLogic™ scan provides detailed information on your body fat %, lean muscle %, and visceral fat %, and compares your scores against the National Health and Nutrition Examination Survey (NHANES) database. The NHANES database looks at age, gender and race to match your results to your peers.

Lean Muscle Mass refers to muscles that do not have a lot of fat around or within it.
Visceral Fat is fat that wraps around your abdominal organs deep inside your body. it's located near several vital organs such as the liver, stomach and intestines, and can build up in the arteries. Visceral fat is sometimes referred to as "active fat" because it can actively increase the risk of serious health problems.
Subcutaneous Fat is the fat stored just beneath the skin. Development of subcutaneous fat can be attributed to:
– Sedentary lifestyle
– Have diabetes
– Eat more calories than you burn
– Have little muscle mass
– Get little aerobic activity
The BodyLogic™ scan serves as an additional tool to monitor a patient's weight loss or weight management programs. The information provided by the body composition analysis can be used to help patients lose body fat, not lean muscle, for more successful and healthier long-term weight loss.

When you come to DINW for a BodyLogic™ scan, you will receive a printed report that includes high-resolution images, information on your specific body composition and how your results compare with other adults in the US of similar age, gender, and race within the NHANES database.

If you are participating in a weight loss program or have set your own weight loss goals and wish to measure progress, you may be interested in scheduling more than one BodyLogic™ scan, at least 3 months apart, to track your progress. The Rate-of-Change report visually displays changes in your body over time, allowing you, your coach, or healthcare provider to assess and adjust your program as needed.

Are you an athlete looking to take your performance to the next level by having a better understanding of your current body composition? Or a physical trainer or coach interested in helping your athletes avoid future or repeat injuries? The BodyLogic™ scan can play an important role in assisting symmetrical muscle development for athletes by providing you with the information you need to customize training plans.

The information provided by our advanced body composition analysis gives you a clear picture of lean muscle %, body fat %, and visceral fat % for each arm and leg, trunk, and head. This level of detailed information will help you as you develop or make adjustments to training programs or physical therapy programs. Once training adjustments have been made, the BodyLogic™ scan can continue to track progress.

Body Mass Index (BMI) is an estimate of body fat and is commonly used to assess a person's risk for diseases. BMI is calculated based on your height, weight, and gender. A higher BMI can mean you are at higher risk for certain diseases such as heart disease, high blood pressure, type 2 diabetes, etc. While BMI is easy to calculate, it does not provide a complete picture of your body's make-up.

Advanced body composition analysis can be an effective tool for assisting in disease prevention by providing the most accurate measurement of muscle, fat, and visceral fat percentages. Understanding your body composition can provide you and your healthcare provider with helpful information about your individual health risks and track changes for long-term risk identification and reduction.

Please note: The BodyLogic™ scan is not a tool for diagnosing disease.

The BodyLogic™ scan

Single Analysis

---

$75

---

Package of 2
$140
Typically to assess the before & after of a health or fitness program

---

---

Package of 3
$180
Typically to assess incremental changes of a health or fitness program

---

---

We gladly accept the following payment methods at the time of service:

Check
Visa or Mastercard
HSA account cards

The BodyLogic™ scan is available to the general public and is a self-referred test. Please note: Insurance companies will not cover this service at this time.

Weight Management or Performance Programs

If you offer weight loss, weight management or performance programs and are interested in building advanced body composition analysis into your services, we'd love to partner with you! Please complete the form below.

The BodyLogic™ scan, or advanced body composition analysis, is currently offered at:

---

For optimized results:

You will be asked to change into a gown for your BodyLogic scan. Some clothing can condense or displace body fat, or otherwise impact body composition measurements.
Do not consume calcium 24 hours prior to exam.

What is DEXA?

DEXA stands for Dual-energy X-ray Absorptiometry. It means two X-ray energies are used to measure the bone mineral and soft tissue inside your body to provide the most accurate body composition assessment.

What is the Advanced Body Composition Report?

The Advanced Body Composition® report is included with the BodyLogic™ scan. It provides visual images of the body that show the precise location of bone, lean mass and fat mass. The color-coded system makes it easy for athletes and patients to see exactly where they have fat and muscle on their bodies and provides a visual comparison of changes in the body over time. Detailed measurements of the torso, hips, abdomen and both arms and legs accompany the image to give a complete picture of body composition.

How precise is the BodyLogic™ Scan?

The BodyLogic™ scan can measure as small as 1% changes in muscle and 2% changes in fat.

How often can I get a BodyLogic scan?

The frequency of BodyLogic scans is dependent on your circumstances, goals, and program. Work with your BodyLogic scan provider to determine the best scan frequency for you.

What is the radiation dose of a BodyLogic scan?

The radiation dose received during one BodyLogic scan is approximately equivalent to one day of background radiation. Another way to think about the dose is it is less than the radiation dose you receive during a cross-country flight. The dose from a BodyLogic scan is much less than a CT scan or a standard X-ray.

Why do I need to wear a gown for a BodyLogic scan?

Clothing such as yoga pants and sports bras can restrict the body and condense or displace the body fat that we are trying to measure.  Additionally, clothing with raised or embroidered lettering can impact the measurements. Gowning is required for accuracy and reproducibility should you schedule future scans.